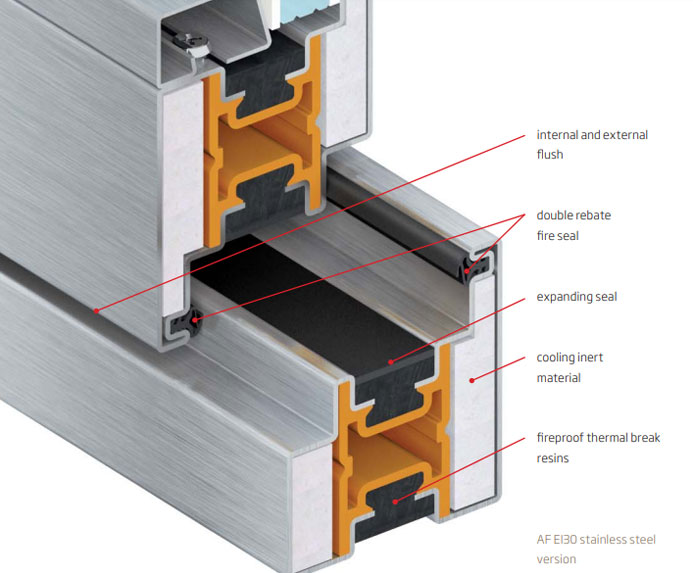 AF
Firebreak doors and glazed partitions that blend in with all other door and window frames of the building
Partitioning the space to protect people from the danger of smoke and fire poses a further challenge for the designer. The difference in shape and look given by the firebreak technology makes it difficult to visually integrate firebreak doors and glazed partitions with all the other door and window frames. On the contrary, despite its high specificity, the AF E/EI system has a wide range of doors and glazed frames – for internal and external use – that bear the same aesthetic nature of all other products by Secco Sistemi. Same materials (painted galvanized steel, stainless steel and corten steel), same shapes and look, same accessories (handles, hinges, panic bars, door closers): all the elements are easy to identify without clashing with the rest of the building. Thanks to an accurate research on specific materials and internal components, including accessories and seals, AF system makes it possible to obtain door and window frames that are able to meet different fire protection standards: EI30 using the technology of EBE thermal insulated system and EW 30/60/90 door and window frames using sistemacciaio profiles.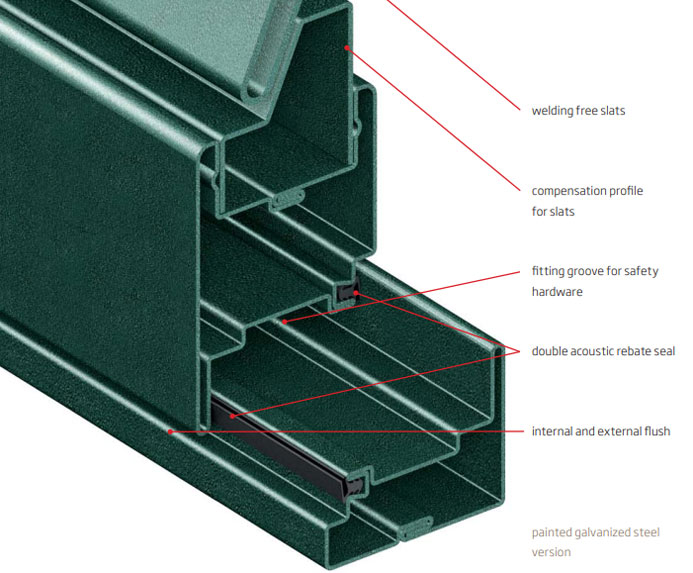 Blindacciaio
Elegance and technology for external protection in traditional building
The design and manufacturing of blindacciao stems from the need to combine safety and partial room darkening, with an elegance that could visually recall the use of blinds in traditional building.
blindacciaio system offers external protection, which is highly resistant to burglary thanks to its galvanized steel profiles, subsequently painted in a wide range of colours and superficial finishes (polished, semi-polished or metallic).
The system is made of a fully welded perimeter frame and fixed slats without visible welding. The elegance of the shapes meets safety thanks to the use of an integrated set of accessories such as stainless steel tamper-proof studs, bolts with saw-proof ends, three point locking system with cremone bolt and handles and weld-on adjustable hinges.