Sistemacciaio
Large glass surfaces, high sturdiness and performance in line with the latest regulations
sistemacciaio, thanks to the slenderness of its profiles, makes it possible to realize glass surfaces with a metal frame reduced in size without compromising the performance required by the latest strict regulations. The particular structure of the steel profiles allows for sturdy frames with high performance, resistance to the weather agents and safety. Despite not being a thermal break system, sistemacciaio guarantees a good thermal insulation thanks to the possibility of using insulating glass with low thermal transmittance and to the small dispersing metal surface.
sistemacciaio door and window frames are available in four materials (painted galvanized steel, stainless steel 304 and 316, corten steel and brass) and two versions, rebated and flush.
They are ideal when in need to recreate the antique charm of intersecting small transoms and mullions or when an all-glass, highly technological solution is needed.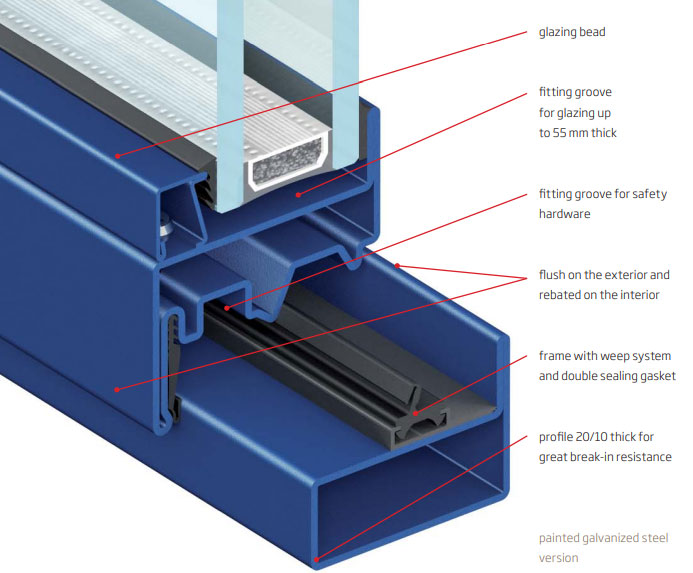 Security
Highly sturdy doors and windows are made with profiles 2 mm thick. They guarantee safety and resistance to burglary
Security is best fit for those architectural settings where sturdiness and safety are needed, even on big surfaces.
Specifically: banks, luxury shops in which a protection against burglary is vital, judicial offices or museums where valuable pieces of art are kept. The 2 mm thick plate in galvanized steel guarantees solidity and resistance to burglary also thanks to the welding assembly system, which allows for high-resistance one-piece door and window frames. The thickness and structure of the Eurogroove profiles allow for certified accessories to be secured for any kind of inward or outward opening.