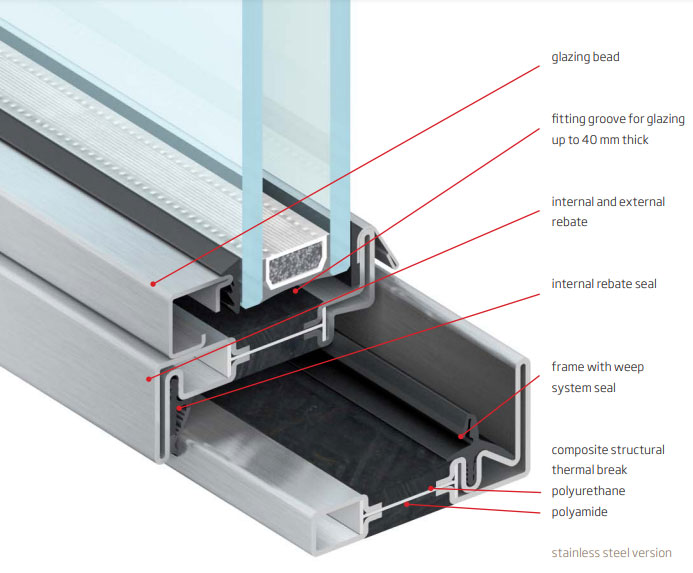 OS2
An innovative door and window frame system with minimal bulk for sustainable architecture
OS2 system has been studied, designed and made by Secco Sistemi in order to provide historical and monumental buildings with door and window frames that could visually recall those used from mid 19th to mid 20th century (the typical iron windows). Thanks to its smaller sections and the use of materials like stainless steel, OS2 system is perfect for the need of contemporary architecture. OS2 system combines in one product the need to integrate those architectural aspects and to meet current regulations in terms of energy saving, living comfort and sustainability of products and processes used. OS2 system is equipped with a 47 mm lateral and a 62 mm central section, made with thermal break profi les – integrated with a complete range of system accessories – allowing for a wide range of openings.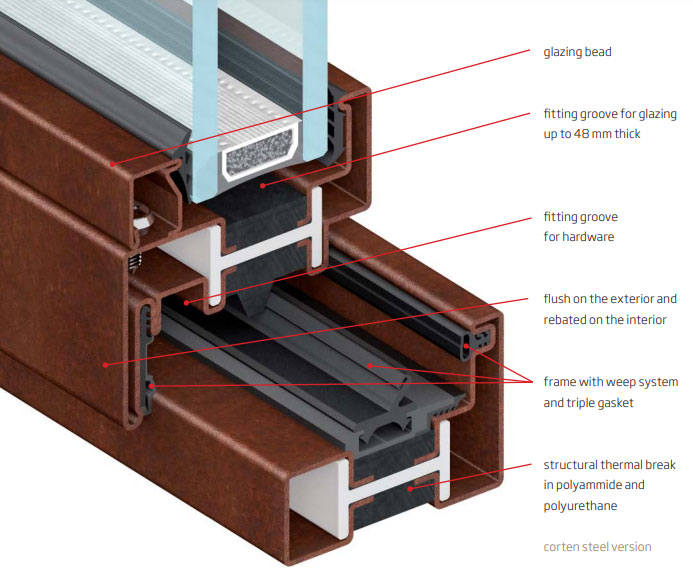 EBE 65
The technological answer to the ever demanding building performance requirements: safety, energy saving, maximum comfort, low maintenance costs
EBE 65 is the technological answer by Secco Sistemi to the ever demanding building performance requirements. The innovative technological solution, known as "thermal break" that is made of polyamide and polyurethane, allows for highly structural profi les with low visual impact. Moreover, the four materials used – galvanized steel, stainless steel, corten steel and brass – can be combined to taste for the internal and external part of the profile.
EBE 65 system meets the most demanding requirements while off ering, at the same time, diff erent design solutions. This is possible thanks to its performance features, its wide choice of opening systems and its complete set of system accessorieses.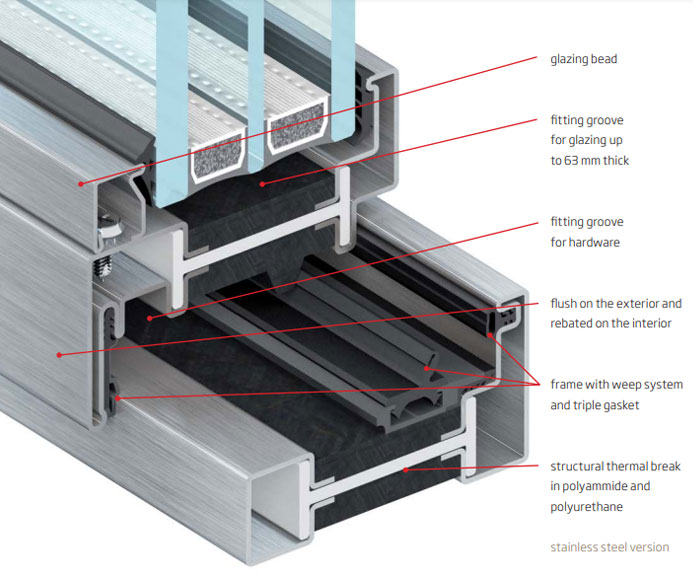 EBE 85
Small frame sections combined with cutting-edge energy saving performance: EBE 85 is the perfect solution for sustainable design
EBE 85 represents a new generation of cutting-edge energy-efficient door and window frames. Thanks to the enhancement of the insulating area and to the reduction of visible sections, EBE 85 combines in one product all the functional advantages and the architectural aspects thus meeting all the requirements for sustainable projects. On a technical side, the width of the profi les makes it possible to use thick triple glazing windows, with high thermal, acoustic and safety performance and to use concealed hinges and locks for a more elegant design. From an architectural point of view, the slender sections of the EBE 85 windows and the possibility of having concealed wings leave space for bigger window light, giving more drawing freedom to the designer.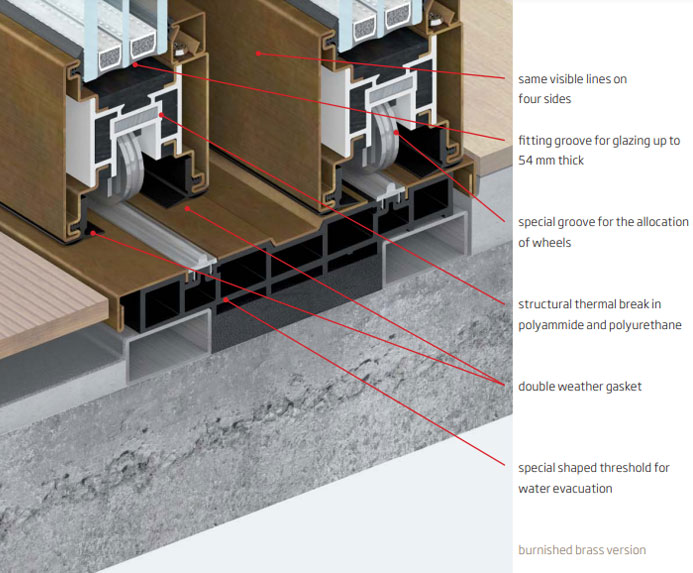 EBE 85 AS
This is an eco-friendly lift and slide door that combines living comfort to multiple-performance features and slenderness to large size
EBE 85 AS is a sliding door/window that can be fit with large glasses and fulfils the countless needs of the eco-friendly designs in a professional and guaranteed way.
EBE 85 AS offers excellent performances for higher living comfort. This is possible thanks to the combination of high-performing thermal-insulating features with outstanding air-permeability, water-proof, wind-load resistance and acoustic-insulation features.
EBE 85 AS is available in two different solutions. It can be provided with overall 94 mm sections, or with 69 mm central sections, side and upper jambs.
Thanks to the choice of different materials offered by Secco Sistemi (galvanized steel, corten steel and brass), EBE 85 AS is the perfect tool for the designer wishing to interpret different architectural styles. The system is completed by a full range of accessories including a concealed motorised solution, which is ideal for opening doors and windows weighing up to 400 kg.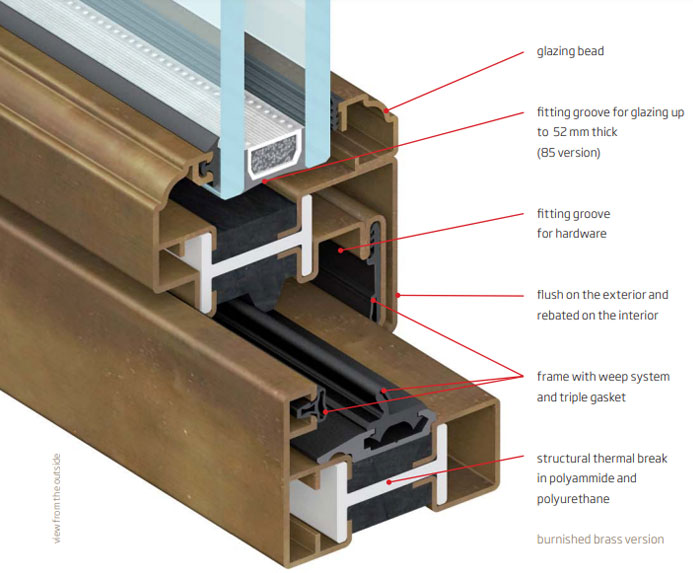 EBE Style
EBE Style is intended for a design based on traditional forms. Classic design is matched with high acoustic and insulating performance
EBE Style is a very sophisticated door and window system with a classic style. Characterised by symmetrical decorative patterns of the door's outer frame and glazing bead, EBE Style is conceived as a stylistic variation of the EBE 65 and EBE 85 system, of which it keeps the technological core without modifying the high level of performance, and it's intended for traditional-style architecture.
EBE Style is a combination of different technologies, such as the forming and extrusion of brass, with the new thermal break system. The final result is a product that combines the technological side typical of the industrial manufacturing world with the sartorial side typical of the artisan world.
EBE Style is available in brass OT67 for the 65 and 85 versions as guarantee of maximum flexibility. Brass is the noblest material in the Secco Sistemi range. Once burnished, it acquires a warm and cosy feel.
EBE Style can be used for inward or outward opening doors, inward-opening windows and bottom-hinged windows, also in arch-shaped models.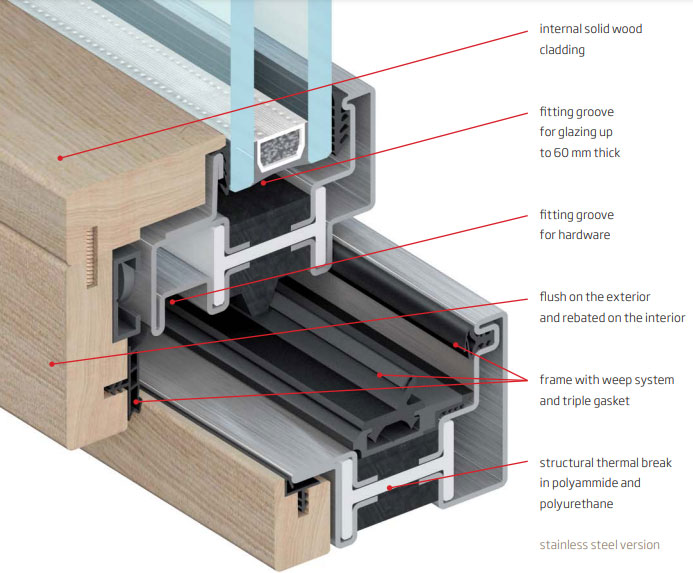 ML
EBE 65 technology meets the warmth of wood to create windows with smaller profiles but with an extremely high structural resistance and acoustic and thermal insulation
ML system has been conceived to meet all these specific requirements at once. In fact, thanks to the structural rigidity of steel profiles with thermal break, it's possible to realize large windows with a mere 85 mm visible section, much smaller than the traditional wooden ones. The width of the metal profile – which allow for the use of thick triple glazing glass – and the range of accessories integrated in the system make it possible to achieve high acoustic, thermal and safety performances, in order to meet all the modern building requirements.
The ML profile is coated with solid wood on the internal face – thus making it easier to match it with the room furnishing – while it uses metal on the external face, thus lowering the need for maintenance.
ML doors and windows are available in steel wood, stainless steel-wood, corten steel wood and in brass-wood. There are different wood finishes available making it easier to adapting it to the different architectural needs.